My Little Monster is a Japanese romantic comedy anime released in 2012, centered on Robico's manga. Haru Yoshida, a joyful and apparently reckless youth, and Shizuku Mizutani, a socially uncomfortable girl who commits herself to academic excellence, are the protagonists of the novel.
Brain's Base produced the anime, which was directed by Hiro Kaburaki and included Noboru Takagi's series composition, Tomohiro Kishi's character designs, Chikako Shibata's art direction, and Masato Nakayama's soundtrack music. From October 2, 2012, the series aired on TV Tokyo, with further telecasts on TVO, TVh, TSC, TVA, and TVQ.
Crunchyroll has acquired the show for internet broadcast distribution in North America and other parts of the world. From August 12, 2013, an OAD episode following the thirteen-episode series. On November 21, 2012, Aniplex launched the series in Japan on seven Blu-ray and DVD editions. The series was acquired for distribution in North America by NIS America.
My Little Monster is about Shizuku Mizutani, a girl with no interests other than studying and looking towards the future, and Haru Yoshida, a boy who sits just beside Shizuku in the classroom but hardly goes to school. Shizuku is tasked with carrying class handouts to Haru's house, and she meets Haru, who welcomes her as a friend right away, beginning their new connection. Shizuku is known as a girl who is emotionless and chilly, earning her the nickname "dry ice."
After she meets Haru, though, she is moved by his naivety and lack of understanding of human connections. Haru, despite his reputation as a furious and unpredictable beast, is truly a sweet and compassionate creature. Both help one another learn how to care for one another and connect to their family members and friends as two previously unsocial people. If you like seeing my little monster, here's a selection of shows you might love.
1. Toradora!
The Palmtop Tiger and the Delinquent are introduced in this series. The "Palmtop Tiger" is the little bit terrifying Taiga Aisaka, whereas the "Delinquent" is the sweet but menacing Ryuuji Takasu. Both are high schoolers of their own set of problems who will be forced to team up in order to deal with the ups and downs of high school life.
Taiga and Ryuuji were random strangers initially. Eventually, their hidden passions drove them to make a blunder that would bind them both. They must now work together to attain their individual objectives. However, as they work forward into their objectives, complicated sentiments emerge among them. This is the story of an unlikely couple who beats the odds.
2. Golden Time
Ada Banri has no recollection of his past. He was in an injury that caused him to lose his memories, and he has even forgotten who he really is. Banri has begun his fresh start in Tokyo as a university student. He had no idea that his past will reconnect with him, and that his future will be filled of surprises.
Kaga Kouko, a lovely and exquisite young lady, enters Banri's life. She will be the one to throw his life into disarray. Banri's difficult life is about to hit a new emotional high point!
3. Ao Haru Ride (Blue Spring Ride)
Futaba Yoshioka and Tanaka Kou are undergoing significant transformations. They've always had each other since they were in middle school, as fortune appeared to favor them. Yoshioka was the frilly kind, but Kou was the calm, naive type. Then something unexpected happened! Kou quietly left, and Yoshioka found himself in an embarrassing and tough situation with everybody due to a lack of understanding.
Yoshioka is a completely different guy now that he is in high school. She had discarded her previous characteristics in the pursuit of a more tomboyish public persona. Kou, on the other hand, has reappeared in her life. Kou has also undergone some alterations, and he now goes by the name Mabuchi Kou. And the transformations don't stop there! What awaits these two now that their lives have been flipped completely upside down?
MUST-READ: Is My Hero Academia Worth Watching?
4. Sukitte Ii na yo (Say "I Love You")
Tachibana Mei has having a difficult time in school. As a result, she became a girl who is as simple as they come, as well as distant and gloomy. All of this was aimed at avoiding attracting attention and avoiding more bad school moments. Everything is well for her after she gets to meet Kurosawa Yamato, a well-known man.
Tachibana Mei has having a difficult time in school. As a result, she became a girl who is as simple as they come, as well as distant and gloomy. All of this was aimed at avoiding attracting attention and avoiding more bad school moments. Everything is well for her after she gets to meet Kurosawa Yamato, a well-known man.
5. Kaichou wa Maid-sama
Seika High Institution is now a co-ed school, having formerly been an all-boys school. The transition has caused numerous issues, particularly in terms of the boy-girl proportion, with males greatly outnumbering females. Luckily, the student council has a "Demon President" in Misaki Ayuzawa. She's powerful, attractive, and ruthless. She'll go to any length to safeguard the school's female students. As a result, the females admire her and the boys despise her.
Misaki, on the other hand, has a significant secret she doesn't want to be disclosed. She did work as a waitress in a maid café. All of that is going swimmingly on her part till the Takumi Uasui, the school's most famous boy, finds her secret! Is Misaki's reign coming to an end, or will the interaction simply provide her with fresh, interesting experiences in school?
6. Kimi ni Todoke
Sadako from The Ring has a striking resemblance to Sawako Kuronuma. Despite her eerie appearance, she is a shy and lovely young lady. Anyone who crosses Sawako's path is inadvertently scared. That is, until she meets a young man named Kazehaya Shouta.
Shouta is among the most well-liked students in the class. Sparks fly throughout Sawako's life because of his involvement. Could it be the dawn of a new era? Is Sawako's door finally open to true friendship? Is this so much more than just friendship?
7. Special A
Hikari Hanazono as well as Kei Takishima have been enemies even though they were tiny toddlers. However, for Hikari, Kei has been always first, placing her in second place. As an outcome, Hikari strives to become as competitive as possible in whatever she does, whether it's athletics, school, or any other activity. As a result of all of this, Hikari ends up at the very same school as Kei, the very elite Hakusenkan!
Despite their heated rivalry, Kei devotes his entire heart to Hikari. Hikari isn't aware of this, yet she unintentionally performs the very same thing. Is the pair doomed to a never-ending feud, or there is something more? Watch as Hikari and Kei's tumultuous yet entertaining quarrel is shattered by love.
Read More | Japan Sinks Season 2 Release Date, Cast, And Story
8. Lovely Complex
The primary theme of this series is a small guy meets a tall gal. Who'd have believed that two people with a fear of heights might make for a compelling love story? Atsushi Ootani is the short male, whereas Risa Koizumi is just the tall girl. Because their love lives aren't going as well as they'd want, they form a connection that sparks an odd affinity among them.
Will Atsushi and Risa have a unique love story? Or will they both wind up being a source of public embarrassment? Atsushi and Risa will then have to navigate the nuances of love.
9. Ookami Shoujo to Kuro Ouji
Wolf Girl and Black Prince are also known as Ookami Shoujo to Kuro Ouji. In this show, Erika Shinohara found herself in an extremely unpleasant and risky situation after telling a lie. What was the point of her deception? Well, mostly about her rumored romantic interest, Sata Kyouya, a decent person. However, she has no idea that the love interest she's referring to is also a student at her school. And he's an expert on just about everything!
Erika has run out of time. The one and only option out of her deception is for Kyouya to appear to be her lover. But then everything comes at a cost, and Kyouya isn't who he appears to be. Kyouya is known as the "Black Prince" because of his personality. Erika's situation has gotten much more difficult. Her deception will eventually result in a slew of amusing situations.
10. The Pet Girl of Sakurasou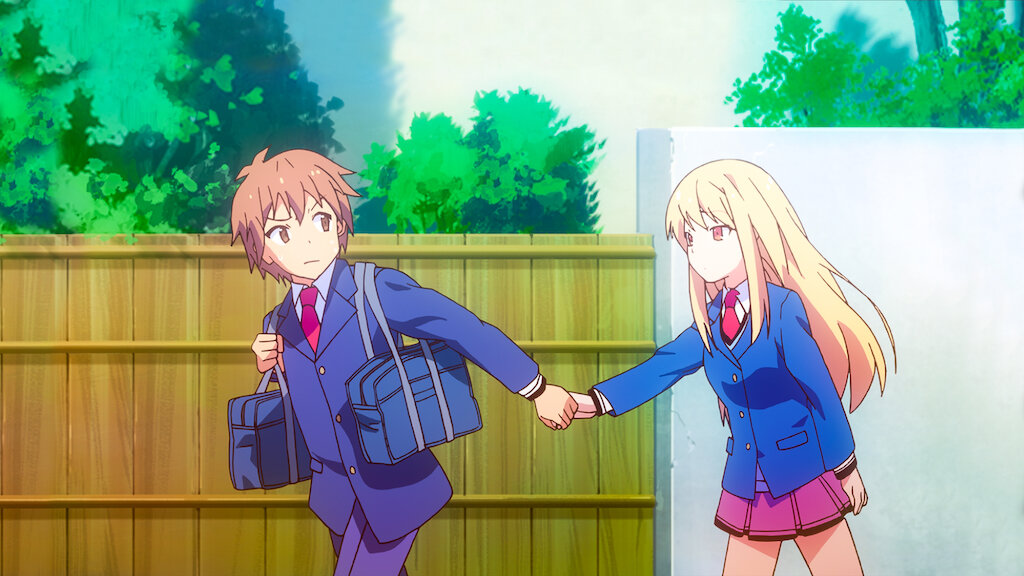 Sakurasou no Pet no Kanojo is also known as The Pet Girl of Sakurasou. The story focuses on Sorata Kanda who is a warm-hearted person. His random act of kindness of rescuing cats has placed him in the Sakura Hall, a strange hostel. Sakura Hall is a place for outstanding yet difficult-to-manage kids. Sorata doesn't care for the location, but he doesn't have an alternative. He now has to cope with the most difficult of all the students: Shiina Mashiro!
Mashiro is a prodigy who knows nothing other than her art. Sorata doesn't have a choice but to look after her. Everybody at Sakura Hall refers to this task as "Mashiro Duty!" Sorata does have to deal with almost everyone. That, ultimately, is only the beginning of a spectacular romance.
11. We Were There
Yano Motoharu is the most popular boy in class, the school's basketball star, and a natural leader! And it is no wonder that Nanami Takahashi can't seem to get enough of him. Things seem too good to be true when Yano returns Nana's sentiments, and the two begin a relationship; yet, Yano has a paradoxical nature, which frequently confuses Nana.
Furthermore, horrible events in Yano's past will continue to affect their love. Is Yano and Nana on the verge of disaster because they can't even control their strong affections, or could they protect one another from irreparable damage?
12. From Me To You
Kimi ni Todoke also known as From Me To You is a story that was about Sawako Kuronuma who is just like every other high school student who wishes to make friends and contribute to her community. The only concern is that she looks suspiciously like Sadako from 'The Ring!'
People are not just scared of her because of her reputation, but little dogs also yelp in dread when she enters the room; in fact, the only person in the school who will speak to her is Kazehaya, the energetic class hottie. As the two spend so much time along, Kazehaya gradually breaks through Sawako's shell, and their affections for one another grow stronger.
Read More | 8 Shows Like Paradise PD That You Must Watch