Celebrity families are always a point of interest and curiosity for their fans. And today we'll talk about one of Hollywood's beloved family men. Undoubtedly, Matt Damon is one of the greatest Hollywood stars of all time. He also takes pride in being a great dad. Matt Damon needs no introduction as such. He is an Academy Award-winning actor, film producer, and screenwriter. Matt Damon has charmed us all with his awesome acting skills and chiseled handsome looks.
But nowadays, he is melting everyone's heart with his sweet bond with his daughters. The actor is most known for his roles in The Martian, Good Will Hunting, Saving Private Ryan, The Martian, Behind the Candelabra, Ford v Ferrari, The Great Wall, The Talented Mr. Ripley, and The Bourne Identity.
Well, let's waste no more time and get right into it. We'll talk about Matt Damon's lovely daughters in this article.
The Damon Family
Matt Damon is the father of four daughters- Alexia, Isabella, Gia, and Stella. Damon and his wife Luciana Bozán are happy and proud parents to their beautiful daughters. He became a father for the first time when he married Luciana Bozán in 2005. Damon met his Argentine wife, Luciana Bozán in April 2003. They were filming Stuck on You in Miami. They became engaged in September 2005. And soon after married in a private civil ceremony on December 9, 2005.
Their happy marriage was made even joyous when they welcomed their three daughters. Matt Damon became a parent for the second time in June 2006. Matt and Luciana welcomed their second daughter Isabella. In August 2008, they welcomed their third daughter Gia. Their happiness quadrupled when they welcomed Stella in October 2010.
Fatherhood has made Matt into a new man. He thinks himself to be very lucky to be surrounded by so many women. He is a very proud dad. And whenever he gets the chance he is praising his daughters. He is always gushing over how intelligent his daughters are.
Read Also: 25 Best YouTubers In The World, Check The List Here
Matt Damon's Daughters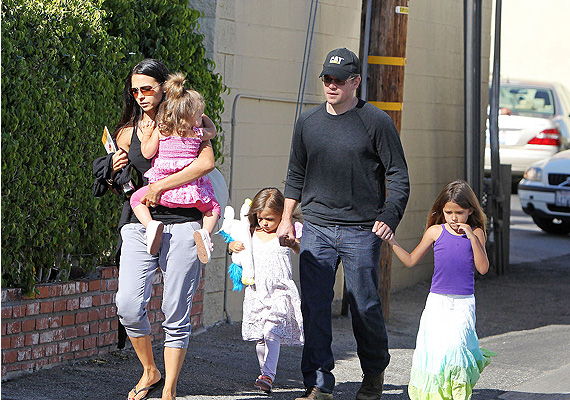 Alexia
Matt Damon's eldest daughter is Alexia.
Damon adopted her with her mother Luciana Bozán. But Matt Damon makes an excellent step-dad to Barroso's daughter, Alexia.
Alexia was born in 1999 in Argentina. She attended a private school in New York. Alexia is currently 23 years old. She was 4 years old when she met Matt Damon for the first time.
Alexia has also appeared alongside her father in the movie "We Bought a Zoo." She played the role of a member of the zoo staff.
Isabella
Matt Damon and Luciana Bozán's first biological daughter was born in June 2006. They welcomed daughter Isabella with big smiles and a warm heart.
Currently, Isabella is 16 years old. Matt Damon when speaking to CBS has said that Isabella refuses to watch his movies. He also added that she plays a crucial role in keeping him grounded and humble. It is evident that Matt Damon is very much grateful to have his daughters in his life.
Gia
Matt's second biological daughter Gia was born on August 20, 2008. Her full name is Gia Zavala Damon. Currently, she is 14 years old. Gia Zavala is a middle child. She has two sisters and an older half-sister.
Stella
The youngest daughter of Matt Damon and Luciana Bozán is Stella. She was born on October 20, 2010. Being the youngest, it is expected that she is pampered with lots of love from her parents. Matt Damon has said how he is wrapped around Stella's fingers.
It is evident how much both the celebs love their kids. Matt Damon also has a tattoo featuring each of his daughter's names – Alexia, Isabella, Gia, and Stella. The tattoo is written in a delicate script on his upper arm. We can tell how happy this family of six is. Matt and his wife Luciana are always trying to give their daughters a normal life. Despite being celebrity kids, they are provided with a humble upbringing. Matt Damon's daughters know a life of utmost luxury that only a few can dream of. Matt Damon's net worth is in the billions. Thus they have some gorgeous properties worth millions in prime locations such as New York, Boston, and Los Angeles. No doubt that the Damons are leading extravagant lives. Presently, the Damon family resides in their six-bedroom penthouse located at the Standish in Brooklyn Heights, New York.
Both Matt and Luciana have tried their best to keep their daughters away from the public eye as much as possible. Letting their daughters live their lives away from the craze of the paparazzi is a good choice.
Read Also: 25 Most Famous Person in the World